Transportation is high up on the list of what a college student needs. Orange is a central spot for all things Southern California. There's the beach, San Diego, Los Angeles and everything in between. The only downside to it all is getting there, especially for Chapman students without a car.
"Coming into Chapman, I was so excited about all the places I could go with all the new freedom I have, but then I realized I didn't have a car to get there," said Charlotte McDougald, a freshman creative writing major.
Here are a few tricks some students use to get around without a car.
1. Uber everywhere
For students without a car, Uber and Lyft can be their best friends. The two companies are always in competition for pricing and customers, however, they both function the same. Uber and Lyft offer various levels of transportation depending on what you need and how much you want to pay.
Both apps have a pool system in which the app pairs you up with other customers headed in your direction. In route, your driver may stop to pick up another customer, lengthening your arrival time but lessening your expenses. Even if your driver never picks up another person, you still get the discounted rate. This is perfect if you don't have a strict arrival time.
Another economic option is carpooling with friends and splitting the fair. Uber and Lyft allow customers to split the price of the trip, depending on how many people are in the carpool.
The downside of these apps is the surge pricing. Pricing goes up during certain days, hours or events, most commonly during rush hour and late nights. This can add up quickly, which is when other transportation options may be a better choice.
2. MetroLink
Greta Nagy, an undeclared freshman, said she prefers the MetroLink when it comes to traveling outside of Orange.
"Back home, I would take it to school every day, and now it's been super convenient to get around when I want to go outside of Orange," Nagy said.
The MetroLink station is behind the Marion Knotts Studios at 194 N Atchison St. The schedule and route maps are available on the MetroLink website.
The MetroLink train costs $6.75 to the Los Angeles Union Station and $13.50 for a round trip. From the Los Angeles Union Station, you can continue using public transit by hopping on subways and buses to the location desired.  If you're looking for something cheap and accessible for a longer trip outside of Orange, the MetroLink is one of your best options.
3. ZipCar
Some students are unaware of Zipcars on campus and their features and deals. Anna Preblud, a freshman strategic and corporate communication major, uses the Zipcar every week because of its accessibility and reasonable pricing. For places the train doesn't stop by, such as Newport Beach, Venice, Santa Monica or other hotspots for Southern California college students, Zipcar is a fantastic option.
Chapman has two Zipcars on campus, which are parked by Dodge College and the Jim Miller Parking Structure. Students are able to reserve a car for either a few hours or a whole day. Each car comes with a full gas tank, insurance and 180 miles included. Essentially, you just pay by the hour. Zipcar charges $8.50 an hour and $69 for a whole day. When comparing this service to Uber or Lyft, most times, the Zipcar is the cheaper option. To drive to Los Angeles is at least a $50 trip for Uber one way, which makes a round trip around $100. Or you could pay $69 for a Zipcar for the whole day, allowing you to get to Los Angeles and back.
Preblud encouraged students to take note of the downsides of the Zipcar as well.
"Some people are late to bringing the Zipcars back by the end of their allowed time, and if you need to go to an appointment or something with a time crunch, it's unpredictable because people are late with bringing the cars back," she said.
Preblud also said that the sooner you reserve the car, the better, that way you have some assurance.
To register for a Zipcar, all you have to do is visit Chapman's website and type in Zipcar for a link to the Zipcar site for Chapman reservations.
4. Sharing is caring.
Charlotte McDougald, a freshman creative writing major, said that her main means of transportation is borrowing her friends' cars.
"A lot of my close friends have cars so I usually just ask to use theirs and offer to pay for the gas I use or buy them lunch," McDougald said.
McDougald said that as long as you trust yourself driving somebody else's car it's a great option because you don't have to go through much of a hassle besides asking a friend.
5. Alternate wheels
Cars and trains aren't the only way to get around town. A lot of students choose an alternate set of wheels in the form of a bike or a scooter or skateboard. Owen Painter, a freshman screen acting major, can be spotted around campus riding his bike to and from class.
"On a campus this small, a bike is quicker and cheaper than a car. Plus, the exercise and fresh air is really nice. I'd totally recommend it," Painter said.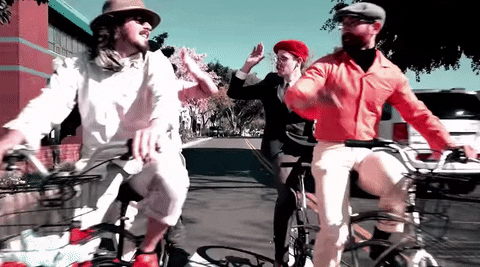 Bikes, scooters and skateboards can be useful, as they get you around without the gas, traffic or the wait times. Students also use these wheels beyond the Chapman campus. Painter said that he uses his bike for errands around Orange such as grocery shopping and Target runs.
Bikes and friends can be a great option for some students if they want a cheap option and enjoy the outdoors and multitasking exercise and transportation.
Overall, there are many other options to get around without having to own a car on campus. Even some students with cars use these options.
"Even with a car, sometimes driving yourself is inconvenient so I Uber all the time and sometimes take the MetroLink if I want to go down to USC or something," said Lauren Crocker, a freshman dance major.